Ginja
Verdi x Binja (Colandro x Legaat)
The daughter of the stallion Verdi is a great genetic from all sides. Father of Verdi; Quidam de Revel is one of the most influential stallions of recent decades. The same applies to the grandfather Landgraf I.
Mother Binja was trained and ridden by Stephan Haarman. Binja jumped at 1.40m level in the Netherlands with Henri Stegeman. She was sold to the United States and here she is now competing at 1.45m level with rider Chris M Ewanouski. Further on in the damline we see the 1.35m jumping horse Naomie (Legaat) and the 1.35m show jumper Henrica (Haaram). Stephan Haarman has trained all te mares by himself and successfully launched them in Show Jumping.
2020: Sydney Shulman (ISR), 1.30m
2019: Chris M Ewanouski (USA), 1.45m
2018: Linsey Strafuss (USA), 1.30m
2016: Sloane Coles (USA), 1.35m
 
The Akarad Hero Z daughter Lavendel Linja won in 2019 the loose jumping competition of Ireland.
It does not come as a surprise that Verdi is developing into a true foundation sire himself. VDL Groep Verdi TN N.O.P. is the best example of sport and breeding going hand in hand. For years, Verdi combines his career as a sire with a sports career at the very highest level. Besides his own performances, Verdi's pedigree is also outtstanding. Sire Quidam de Revel is one of the most influential sires of the past decades and the same goes for Verdi's legendary grandsire Landgraf I. Verdi was bred out of the famous Holsteiner damline 747a, which also produced Calato, VDL Bubalu, Vingino and many more world-class showjumpers and stallions.
Some of Ginja's offspring:
2016: Lavendel Linja (Akarad Hero Z)
2017: Medinja (A Golden Boy Hero Z)
2018: Ninja (IL est Balou)
2019: Ominja (IL est Balou)
2020: Padinja (Comfortuna)
 
Details

Category

Breeding - jumping

Gender

Mare



Birthyear

2011



Height

167 cm


Images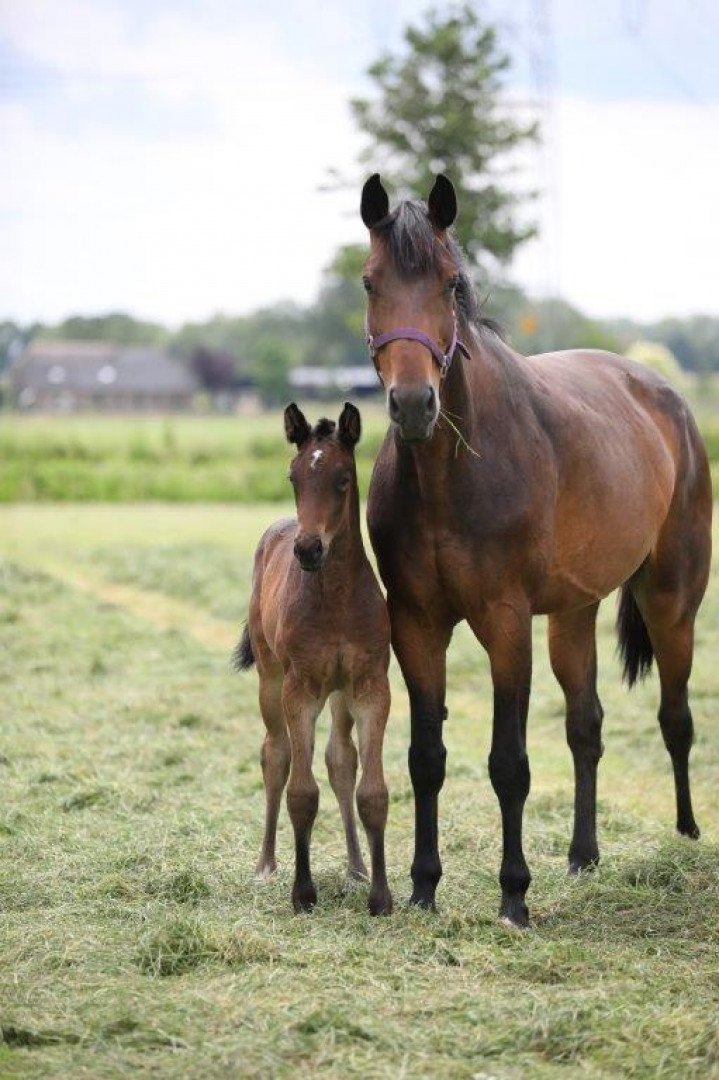 Pedigree
GINJA

201106797

VERDI

02.04912 preferent

QUIDAM DE REVEL

4645VRH erkend

JALISCO B

4456VRH

DIRKA

9481VRM

CLARISSA

DE21 0055588

LANDGRAF I

DE321210391966

RENAISSANCE H

21 0033679

BINJA

06.05809 ster sport-(spr) prok

COLANDRO

DE421000321502

CONTENDRO I

DE321210149897 erkend

J-OHARA

21 0195394

NAOMIE

95.1741 keur prestatie sport-(spr)

LEGAAT

92STB-H keur

HENRICA

89.2214 keur preferent prestatie sport-(spr)